As an employer in the UAE, it is essential to understand the importance of maintaining accurate employee records. One crucial component of an efficient and compliant administrative system is the employee file. In this blog, we will delve into the concept of an employee file, its significance, and see how to prepare one in an effective way.
What is an Employee File?
An employee file is a comprehensive record that contains essential information about an individual's employment history within your organisation. It serves as a centralised repository of documents, forms, and records related to the employee's hiring, employment, and transfer process.
Components of an Employee File
An employee file typically includes the following key documents:
Personal Information: This includes the employee's full name, contact details, identification documents (such as passport or Emirates ID), and emergency contact information.
Employment Contract: A copy of the signed employment contract outlining the terms and conditions agreed upon by both parties.
Offer Letter: A formal document that specifies the job position, salary, benefits, and other pertinent details offered to the employee.
Job Description: A detailed description of the employee's roles, responsibilities, and reporting structure.
Performance Reviews: Periodic performance evaluations, including appraisal forms, feedback, and any relevant documentation.
Attendance Records: Attendance sheets or records that track the employee's attendance, leaves, and absences.
Salary Information: Records of salary, allowances, bonuses, and any revisions or increments over time.
Training and Development: Documentation of the employee's training programs, workshops attended, certifications, and skill enhancement activities.
Disciplinary Actions: Any official warnings, disciplinary actions, or related correspondence.
Resignation or Termination Documentation: Exit interview records, resignation letters, termination letters, and related documentation.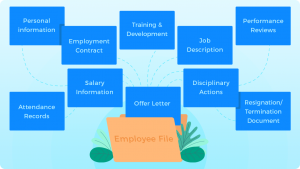 Don't forget Compliance!
While preparing employee files, it is vital to adhere to the UAE's labour laws and regulations. Some key compliance-related points to consider, include:
Data Protection: Safeguard employee information and ensure compliance with data protection regulations such as the UAE Data Protection Law.
Confidentiality: Maintain the confidentiality of employee records, granting access only to authorized personnel.
Retention Period: Familiarise yourself with the retention periods for various employee records as mandated by UAE labour laws.
Employee File Maintenance
Creating an employee file is not a one-time task. Make sure that the files are regularly reviewed and updated in order to reflect any changes in the employee's employment status, salary revisions, promotions, or disciplinary actions. Set periodic reminders to renew employment contracts and work permits as required.
The files can be stored in physical form (in labelled folders or binders) or electronically (secure digital storage system), as long as they are stored securely and confidentially. Having a standardised document checklist helps to ensure all the necessary documents are present and are up to date in each employee's file.
Conclusion
An employee file is an invaluable tool for managing human resources effectively. By understanding the components, organization, and compliance considerations, you can ensure that your employee files are complete, accurate, and compliant with the UAE labour laws. Maintaining well-organized employee files not only helps to streamline your internal processes but also contributes to a more productive and legally sound work environment for your business.
For more information related to your employees' financial rights, WPS-compliant salary processing or payroll services in UAE, feel free to reach out to us on info.ae@edenred.com